The Great Room (Our Large Event Room)
You can gather together to eat, have a barbecue or enjoy an afternoon of laughter around the fire while others may enjoy an afternoon of games.. Ready for enjoying your stay.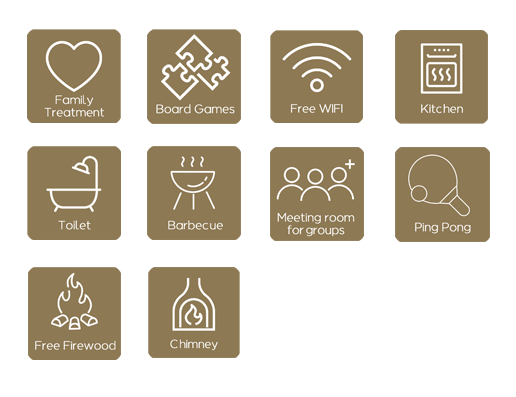 You can add in your apparment:
¿Which is the opinion of our guests?
MARIA M M.
FIN DE SEMANA GENIAL !!! Fuimos un grupo de 10 personas y disfrutamos del amplio salon del que disponiamos en la planta baja. Es mi segunda visita a la casa… y espero volver pronto !!! A las 8 personas que ocuparon la casa junto con mi marido y conmigo les encanto !!! Por lo que tambien se quedaron con ganas de mas…. Seguro que volvemos todos !!!.
Josiane et Lucien.
"Verdaderamente una casa con encanto, la gente muy amable y disponible, hemos passado nueve dias formidables. deseamos un feliz 2014 a todos y muchos agradecimientos.
Un séjour vraiment très agréable,le personnel est plein de délicates attentions,le logement très bien pensé,décoré avec beaucoup de charme,très bien situé pour les visites, bons restaurants,bars et commerces sont tous à une ou deux rues de la location. Nous recommandons vivement cette location. Meilleurs vœux 2014 à tous."